August's Volunteer is...
Erika Klawonn
Erika is a Troop Leader and Service Unit member in Juneau.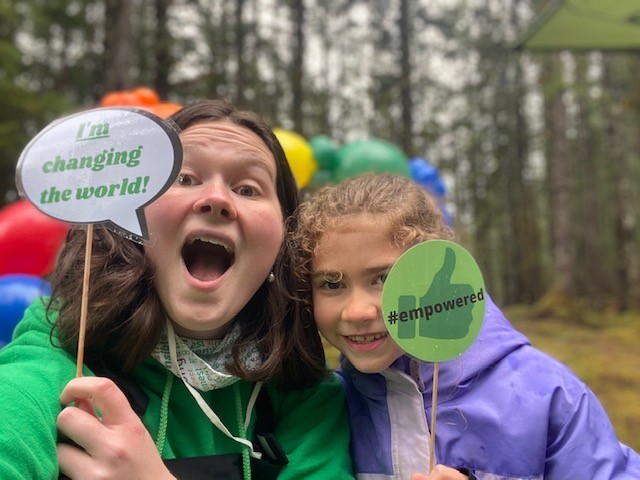 Tell us a little about yourself. 
 I am a Brownie leader for Troop 4023 in Juneau, where I was once a Brownie myself! 
Why do you volunteer with Girl Scouts?
I volunteer with Girl Scouts because it's an awesome opportunity to help our local girls maximize their learning and creativity potentials. 
What has been your biggest challenge when volunteering, and how have you overcome it?
Covid was, and continues to be, a challenge we are always working around. Thankfully, with a mix of a little technology and a lot of the great outdoors, we have been able to continue meeting as a troop without skipping a beat! 
What is your favorite thing about volunteering with Girl Scouts?
My favorite thing about volunteering is the moment I see a girl figure out how to solve a problem. Whether they're building a game spinner from a box of miscellaneous building materials, or coming up with ways to help disadvantaged members of their community, nothing beats getting to see the gears in their brains turn while they come up with solutions. 
How has your troop/Service Unit involvement grown since it first started?
This is my third year as a troop leader, and I'm beginning my second year as a SU member. I quickly dove into the bigger picture of Girl Scouts in the community and I've really enjoyed being a helping hand in some of the larger events we hold for Girl Scouts here in Juneau! 
What are the girls you're involved with most enthusiastic about in Girl Scouting?
Our girls are most enthusiastic about outdoor adventures. They hope to earn the Cabin Camper badge this year, and have already earned their Outdoor Art Creator badge! 
What have you gained as a volunteer?
I've gained some lifelong friends in our troop helpers, my co-leader, and our troop parents. I'm confident our girls have gained the same! 
Girl Scouts of Alaska thanks Erika for her dedication to girls in Juneau and beyond!