May's Volunteer is...
Lynda Zaugg
Lynda Zaugg is in her last term as the Chair of the Board of Directors of Girl Scouts of Alaska.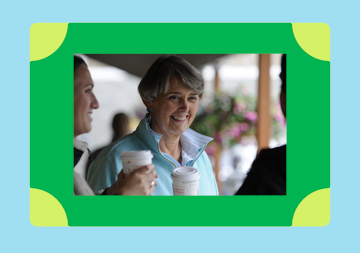 Lynda was honored during Entrepreneurship week of EmpowHer 2022.
Today we are honoring Lynda Zaugg, the Chair of the Board of Directors of Girl Scouts of Alaska!
Before retiring, Lynda had a distinguished 30-year career in the State of Alaska Department of Corrections and was appointed by Governor Tony Knowles to serve as the Director of Community Corrections for the State of Alaska. Lynda was among the first professional women in the field of corrections in Alaska. Throughout her career, she paved the way for women and created opportunities for women to become involved and succeed in the field.
Lynda was first involved in Girl Scouts as a girl in Ketchikan. As a young girl in small-town Alaska, she experienced firsthand the importance of having the opportunity to participate in activities specifically designed for girls. She benefitted from Girl Scouts herself and then went on to support Girl Scouts of Alaska in a myriad of ways - from Camp Director to President of the Tongass Council. Lynda loves the outdoors and works to ensure girls get the same opportunities to camp and simply be outside that she had.
Lynda has actively sought and championed policies to provide the Girl Scout Leadership Experience to girls in rural areas. She works to make camp available to any girl regardless of means and to provide Girl Scout programs to underserved communities. She not only mentors girls, but she also leads by example and has mentored board members to be active, involved participants in Girl Scouts.
Lynda Zaugg's commitment and work in support of Girl Scouts of Alaska is reflected in both the rank she holds as Lifetime Girl Scout member and the recognitions she has earned throughout her service to Alaska's girls. She has received many badges and awards through Girl Scouts, including the highest honor bestowed upon adults—the Thanks Badge.
We are honored to have Lynda support us at Girl Scouts of Alaska.
Girl Scouts of Alaska thanks Lynda for her dedication to girls in Alaska!