May's Volunteer is...

Mary Graber
Mary is a Troop Leader and Service Unit volunteer in Eagle River.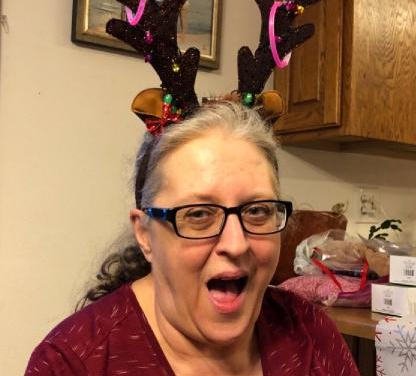 Tell us a little about yourself.
I am a troop leader in Eagle River, and my girls are currently Junior/Cadette.  I was a Girl Scout growing up in Nebraska. Many towns did not have Girl Scouts, and Daisies didn't exist, so I joined as a Junior when we moved to a bigger town. I continued through high school and then joined the Army after graduation. I've always been a "helper": working in the school cafeteria, as a candy striper, Girl Scouting, etc. I have lived in Alaska for 26 years, have been married for 28 years and have two adopted children.
Why do you volunteer with Girl Scouts?
 I remember how much I gained as a Girl Scout and how much I appreciated the adults who took on leadership roles, including my parents! I've always wanted to pay it forward.
What has been your biggest challenge when volunteering, and how have you overcome it?
I'm sure there are plenty, but I usually don't notice. I just carry on!
What is your favorite thing about volunteering with Girl Scouts?
I just love to see the curiosity the girls show for new things or new ways of doing things. I love helping the light bulbs go on and seeing the girls grow and shine.  I like the idea that I am in some way a part of growing world leaders and helping girls reach their full potential.
What advice would you give to new Girl Scout volunteers?
Take a deep breath and JUMP right in! YOU CAN DO IT! There are so many resources and so much advice available from other leaders, Service Units and Council, so you will never be alone. Also, if you're from another area of the country, don't expect things to be the same here. We are in a unique place with unique opportunities and a different way of life than most places have. Embrace Alaska and what it has to offer.
How has your Troop/SU/involvement grown since it first started?
I became a troop leader in 2012 when my daughter was 5. The first year I had 2 girls. It went up and down from there, anywhere between 6 and 14 girls. Most of the 12 girls I have now have been with me for at least 3 years, and some moved from other troops to join us. Since then, I have acted as SU secretary, treasurer, shed manager, and now SU manager.  Over the years I have organized and presented many successful activities and events for the girls in Chugiak/Eagle River. Several years ago I started inviting girls from JBER, Anchorage and the Valley to join us. Some of the events:  Mother-Daughter Tea, Women of Arts, Maker Days, Journey In A Day, Daisy to Be, and Recruiting Expos.  I helped at back-to-school nights and any SU activity/event that needed extra volunteers and preparations.
What are the girls you're involved with most enthusiastic about in Girl Scouting?
Meetings of any kind, special events, Encampment, travel, Cookies, games and skits.
What have you gained as a volunteer?
A lot of joy and pride. These questions are hard to answer because I don't like talking about myself. But, I love my girls! 
Girl Scouts of Alaska thanks Mary for her dedication to girls in Eagle River and beyond!