Register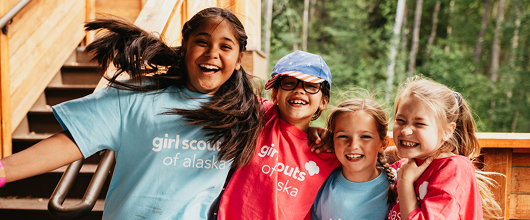 Current members also have the opportunity to participate in the Girl Scout cookie program and earn product credits that can help pay for camp! Want to participate? Send us an email at customercare@girlscoutsalaska.org and we'll help you get started.

We know these are extraordinary times. If you need assistance to cover your camp cost just select the financial aid box on the registration form.

You can fill out the campership form online.
Girls may receive financial aid for up to one week of day camp and one week of resident camp. Camperships apply to girls in the state of Alaska only.
If you have any questions about Product Credits, how they are applied or how many your girl has from a previous year, please see our Program Credits page or reach out to customercare@girlscoutsalaska.org.

Help send a girl to camp
If you would like to donate a registration to someone less fortunate, please add any amount to your payment on the registration form.