Register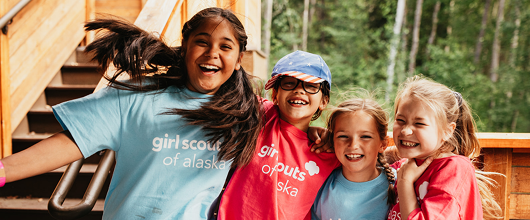 2020 Virtual camp has ended. Check back for 2021 dates and information!

Camperships
We know these are extraordinary times. We hope you'll allow us to cover your camp cost if it alleviates any general anxiety, uncertainty, or financial burden you may be feeling. Just select the financial aid box on the registration form.
This year only, we won't require families to complete the campership form or provide any proof of why they need financial aid. Simply check the financial aid box on the registration form and we'll add the campership to your camper's account.
We've also suspended our policy that girls can only receive financial aid for one session a summer. You can receive assistance for as many sessions as you need help covering.
Cookie Credits/Full Product Sales Credits:
Girls from Girl Scouts of Alaska who participated in the 2019 Fall Product Program and/or the 2020 Cookie Program may use their credits to pay for camp.
If your girl sold Girl Scout cookies in the 2020 sale, every box she sold gets her one step closer to camp.
❂ 20¢ per box
❂ 50 boxes equal a free session of virtual camp
❂ 25 boxes equal a free virtual mini camp session
Details on cookie credits for each program are included in program descriptions. Girls who sold during the 2019 Fall Product Sale earn 60¢ for every item sold. Credits may be claimed one time only and have no cash value. Credits are only good at Girl Scouts of Alaska camps.
Help send a girl to camp
If you would like to donate a registration to someone less fortunate, please add any amount to your payment on the registration form.