Our camps are committed to creating a community that helps campers unlock their potential and discover the world while developing life skills. In our safe and supportive environment girls become active participants in the learning process as counselors guide them in not only having fun, but understanding the importance of how and what they are doing.
Continue >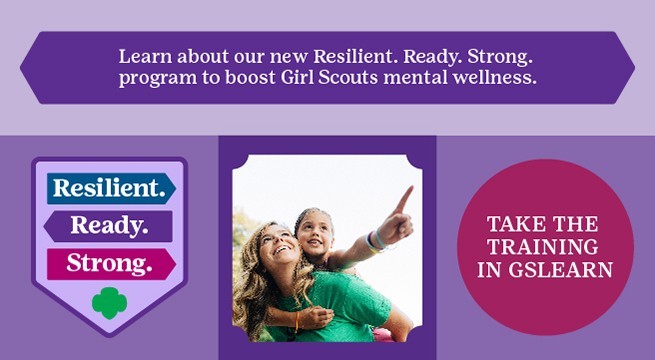 The challenges of today's world don't only affect grownups. Young people—especially girls—are facing a mental health crisis of their own. Girl Scouts already supports mental wellness by offering girls a safe space with supportive adults, an opportunity to develop friendships and belonging, a place to take positive risks and build confidence, and a focus on giving back to your community and making a difference in the world. Try activities from the Girl Scouts: Resilient. Ready. Strong. program to strengthen your mental wellness. Explore the Girl Scout Resilient. Ready. Strong. program at girlscouts.org/wellness
Continue >

Hello summer! I've been checking the weather reports council-wide and have seen some sunny days almost everywhere. That must mean it's time for Encampment and camp!
Continue >

CEO Corner: Camp updates, fall recruitment
30 Jun 2022
What an amazing summer we've had so far! We had Encampment in early June, followed by camp at Togowoods, Singing Hills, and communities across our council. It's so nice to see girls and families getting together again.
CEO Corner: Encampment, camp, spring renewal, bridging
27 Apr 2022
Spring is in the air! Finally. And spring means summer is just around the corner. If you haven't signed up for camp yet, you definitely still have time. You can learn everything you need to know and sign up here. Our camp director, Polar Bear, did some camp info sessions where she answered all the burning questions—there is one more coming up on May 16.