The berry is out of the box! Meet Raspberry Rally™.  A thin, crispy cookie infused with raspberry flavor and dipped in a delicious chocolaty coating. Exclusively sold online for direct shipping this Girl Scout Cookie season! Girl Scouts of Alaska's cookie season begins in January.
Continue >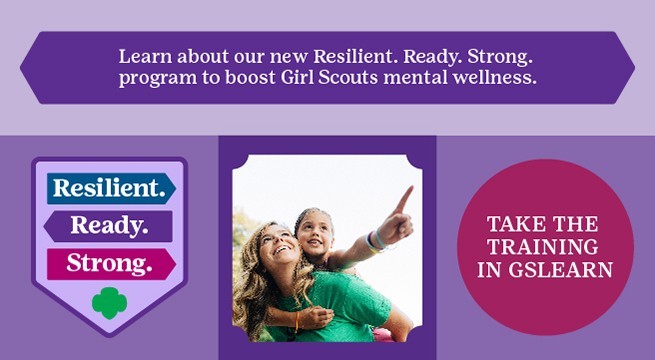 The challenges of today's world don't only affect grownups. Young people—especially girls—are facing a mental health crisis of their own. Girl Scouts already supports mental wellness by offering girls a safe space with supportive adults, an opportunity to develop friendships and belonging, a place to take positive risks and build confidence, and a focus on giving back to your community and making a difference in the world. Try activities from the Girl Scouts: Resilient. Ready. Strong. program to strengthen your mental wellness. Explore the Girl Scout Resilient. Ready. Strong. program at girlscouts.org/wellness
Continue >

Hello! Happy lingering fall season with winter bearing down upon us. I may be alone in this feeling, but I've loved the sort of slow entry to snow season.
We've got a very busy fall planned for Girl Scouts of Alaska.
Continue >